Game Summaries & Headlines
.
Girls Varsity Lacrosse vs. ROCKFORD HS SCHOOL
Game Date

Apr 18, 2012

Score

HAWKS: 15
ROCKFORD HIGH SCHOOL: 8
Lindsey Jenks leads Forest Hills co-op girls lacrosse team to a 15-8 homefield victory over Rockford
Don VanderVeen|Advance Newspapers, April 18, 2012 9:54 p.m.
View full size
(Advance Photo|KAREN WAITE)
-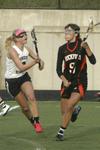 View full size
(Advance Photo|KAREN WAITE)
-
ADA – As good of an offensive weapon that Forest Hills lacrosse player Lindsey Jenks was against Rockford on Wednesday, she was just as impressive holding the Rams' Erika Neumen in check on the defensive end.
That essentially made Jenks a double jinx to the Rams.
Jenks scored seven goals and exclusively hawked Rockford's Neumen on the defensive end to lead the Forest Hills co-op team to a 15-8 victory at Forest Hills Eastern High School.
The victory snapped a two-game losing streak by Forest Hills (5-2) and sent Rockford (3-2) to its second straight defeat after starting the season with three consecutive victories.
The combination of Jenks' defensive play and some opportune goaltending by Sam Powers limited Neumen to just two goals in the game.
"Lindsey played a good game at both ends, especially on defense," Forest Hills coach Todd Jenks said. "It's no secret that Erika Neumen is a Division I college caliber player and we were able to slow her down. You're never going to keep her off the board, but we did a good job on her. Lindsey's offense wasn't our biggest concern; it was Ms Neumen.
"The goals she scored were a bonus. She had a little eye of the tiger in her."
Forest Hills opened up the game in a flurry, scoring four goals – two by Lindsey Jenks and two by Karlie Cassidy – in two minute intervals for a 4-0 lead.
"We got off to a good start," Todd Jenks said. "We had a poor performance in a (13-9) loss to Caledonia on Monday, but they refocused for this game. We had a 4-0 lead in that game too. They are learning that they have to maintain the intensity for a whole game.
"We're trying to prove we belong in that group of teams like Rockford, East Grand Rapids and Catholic Central. We're starting to feel like we belong in that group."
Lindsey Jenks and Cassidy each scored again and Therese Jenks (no relation) added two goals to make it 8-2 at halftime.
"Our girls didn't show up to play," Rockford coach Mike Emery said. "The intensity wasn't there, the teamwork wasn't there and we just weren't ready to play like a team.
"Forest Hills had two losses in their last two games, and now we have two losses in our last two games. We have to come ready to play every time out. Every game is big, and you've got to come to every game ready to play."
Two more goals by Lindsey Jenks and another by Cassidy ran the score to 11-2 early in the second half before the Rams rallied back on goals by Neumen, Morgan Stage, Isabelle Vickers and Rosemeri Morrison to pull within five goals.
"We were getting more shots on goal in the second half," Emery said. "We made some substitutions we needed to make and had some girls in there playing aggressively."
Lindsey Jenks scored her sixth and seventh goals of the game and Terese Jenks added her third as Forest Hills stretched back to a more comfortable seven-goal lead and held on for the win.
https://fhesports.net